Quality monitoring & Certification | les Huîtres

M

arennes Oléron
L'IGP
Protection of Geographical Indication
sets out provisions on a product whose specific characteristics are linked to a geographical area in which a stage of its production takes place in accordance with well-defined requirements. This is an official European sign that protects the name of the product throughout the European Union.
Red Label
is an official French sign designating a product which is the result of strict requirement in all stages, notably production, and guarantees an organoleptic level of quality superior to that of a similar current product. The organoleptic quality of Label Rouge oysters is regularly assessed by a sensory analysis laboratory.
Marennes Oléron Oyster : The best possible oyster
From La Claire to the dish, Marennes Oléron oysters are meticulously controlled. Stage after stage, the quality of oysters is supervised by professionals (selfinspection), Quality Department (internal control), certifying body (external control), a microbiological analysis laboratory and a sensory analysis laboratory. Controls cover the following main aspects: maturing procedures, organoleptic quality of the product, and traceability.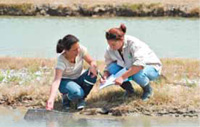 Each year, oyster farms are audited for each product by Quality Department, which represents 1,600 controls. Health quality is guaranteed by a microbiological analysis laboratory (2,000 analyses).

Over 300 outlets are inspected each year in order to control the selling conditions of the products. And, the Customer Service ensures that all products come up to each consumer's expectations.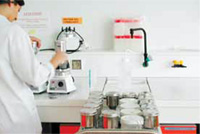 M

arennes Oléron
THE ONLY CERTIFIED OYSTERS