La Fine de Claire Verte |

M

arennes Oléron Oysters
The Fine de Claire Verte (green) Label Rouge
A product of superior quality, fine de claire Red Label, a label given by the French ministry of agriculture, is subjected to a highly demanding quality control regime.
The oyster must be finished in claires at a density and for a duration rigorously defined by the regulations. It should be round and tightly shut, and correspond to an index of shape taking into consideration its length breadth and depth. The quantity of flesh is considered as a proportion of the total weight of the oyster.
The Red Label fine de claire should present a characteristic green tint from its time in the claire. Finally, to guarantee optimal freshness the oyster should be sold and consumed a maximum of ten days after being taken from the water.
The green colour, so highly appreciated, is the result of the presence of the naviculus micro algae, filtered by the oyster which retains the pigment marennine.
This exceptional oyster is produced from October to May to respect its reproductive cycle and to guarantee them not to be milky.
Fiche produit
Method of production Finished in claires for 28 days minimum (November – March), maximum density 3 kg per m2.
Natural green colouring of the claire Sod between October and May only, specialised preparation and packing.
Commercialisation d'octobre à mai en conditionnement spécifique
Product Consistent shape
Sufficient quantity of flesh, translucent or white mantle, no milkiness
Green gills
Agreeable marine odour
Finished flavour, typical of the region
Balanced taste, salty, then sweet
Soft to firm consistency
Medium longevity on the palate
Consumer Lovers of green oysters with a refined taste
IGP Certification | All Marennes Oléron oysters are
Cultured on the French Atlantic coast
Finished or cultured in claire ponds in the Marennes Oléron basin
Certified by an independent inspector
Quality controlled by the quality service and independent inspector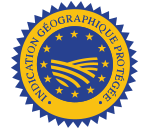 la Fine de Claire Verte


Red Label Oyster & IGP Certification