Kiwi, gingembre et lait de coco
For 2 persons: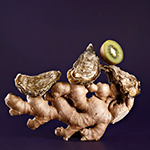 Peel and finely dice the kiwi. Mix the coconut butter and grated ginger and heat over a low flame. Allow to marinade in the refrigerator for at least 30 minutes, covered with plastic film. Take the Marennes Oléron oysters and cut the muscle.

Empty the water from the oyster before serving. Add the kiwi fruit and pour on a little of the coconut-ginger sauce.

Our advice for the oysters: To conserve the freshness and finesse of this delicate mixture of flavours, fines de claires or fines de claires vertes are the best option.